MyState Bank Arena
The $66 million redevelopment of My State Bank Arena saw the southern Tasmanian icon transform into a world-class sport and entertainment arena. Our Click-on Battens play centre stage in the design, showcasing the beauty of Tasmanian timber throughout the whole stadium.
The project was designed by Philp Lighton Architects, built by Vos Construction & Joinery and supported by the Tasmanian Government.
Situated on the banks of the Derwent River, the arena has undergone a series of redevelopments to ready the venue for the 2021/2022 NBL season and create a new home for Tasmania's NBL team, the JackJumpers.
Product
Click-on Battens
Materials
An icon reimagined
MyState Bank Arena is Tasmania's largest capacity indoor entertainment venue and Hobart's top venue for sporting events, concerts, trade shows and conferences.
Originally known as the Derwent Entertainment Centre, it was rebranded as MyState Bank Arena – marking a new era that offers patrons a never-before experience in stadium comfort, enjoyment and entertainment. Significant improvements have been made to the visitor experience through the addition of new food and beverage areas, the upgrade of amenities and major modifications to the existing structure to improve accessibility.
The venue has also been given a striking new look that promotes Tasmanian ingenuity and finishes. The concourse features Tasmanian Oak timber walls throughout while the food and beverage areas, members' lounges and bars are unrecognisable with blocks of battens at alternating depths adding aesthetic interest.
Welcoming yet robust
The aim was to create a fit-for-purpose, state-of-the-art, distinctively Tasmanian basketball stadium and multipurpose event space. Philp Lighton Architects began by designing the space from a fan's perspective by trying to make their experience welcoming.
They incorporated materials from Tasmania through the use of Tasmanian timber instead of painted plasterboard or cement. The robust hardwoods, Tasmanian Oak and Tasmanian Blackwood line the walls and ceilings via our popular Click-on Batten system, to create a stunningly natural and warm effect throughout the whole stadium.
The batten system not only looks sensational, it's functional too – allowing Philp Lighton to conceal sound-absorbing acoustic backing and incorporate strip lighting into the system.
Click-on Battens are also used at the bar and kiosk fronts to break up non-linear spaces and to bring warmth, beauty and interest to the areas.
The concourse area had to be designed to flex to accommodate huge numbers of visitors. Up to 5,000 people at a time could come to watch a basketball game, while as many as 8800 can flow through the areas during concerts.
Timber's ability to expand and contract to fluctuations in temperature make it a particularly good material for that space. It is also able to withstand the knocks of large crowds going past and can be easily sanded and refinished if needed.
Product Specifications - Timber Columns
| | |
| --- | --- |
| Product | Click-on Battens |
| Material | Timber |
| Species | Tasmanian Blackwood |
| Profile | Block, 32x32, 32x60, 22x42, 32x32, 32x60, 32x32, 22x42mm |
| Spacing | 18mm |
| Coating | Clear Oil |
| Track | Standard mounting track |
Sustainable, locally sourced timber
Exuding luxury, our Click-on Battens crafted from Tasmanian Blackwood was the obvious choice for the corporate hosting space and features on the interior columns.
In the high-impact areas,  solid pieces of Blackwood were applied to the corners of the bars, in the reveals of doorways and on the edges of doors. For the walls, large 1200 x 2400mm Blackwood panels are used, with mismatched veneers deliberately embraced.
From a sustainability perspective, mismatching the timber and not requiring full lengths or consistent grain increases the utilisation of the product. And, when it all came together, the result had a much more natural look.
We prefer to source locally where possible, so it was great to be able to craft our products from timber sourced through Tasmanian Timber. Plus, despite it being a large project, there were no supply chain issues and the quality of timber was top-notch.
"The feedback that we've had from the Tasmanian Government has been tremendous. For them to have significantly invested into this project and for it to be such a good result – exhibiting good quality Tasmanian timber – is a testament to what the Tasmanian Wood Encouragement Policy can achieve. It also shows they have the community's best interest at heart by locking up as much carbon as they can through government projects. It's a great sustainability story. "
Project Summary
Architect
Philp Lighton Architects
Builder
Vos Construction & Joinery
Location
Hobart, Tasmania
Sector
Entertainment and Leisure
Photographer
Alice Bennett Photography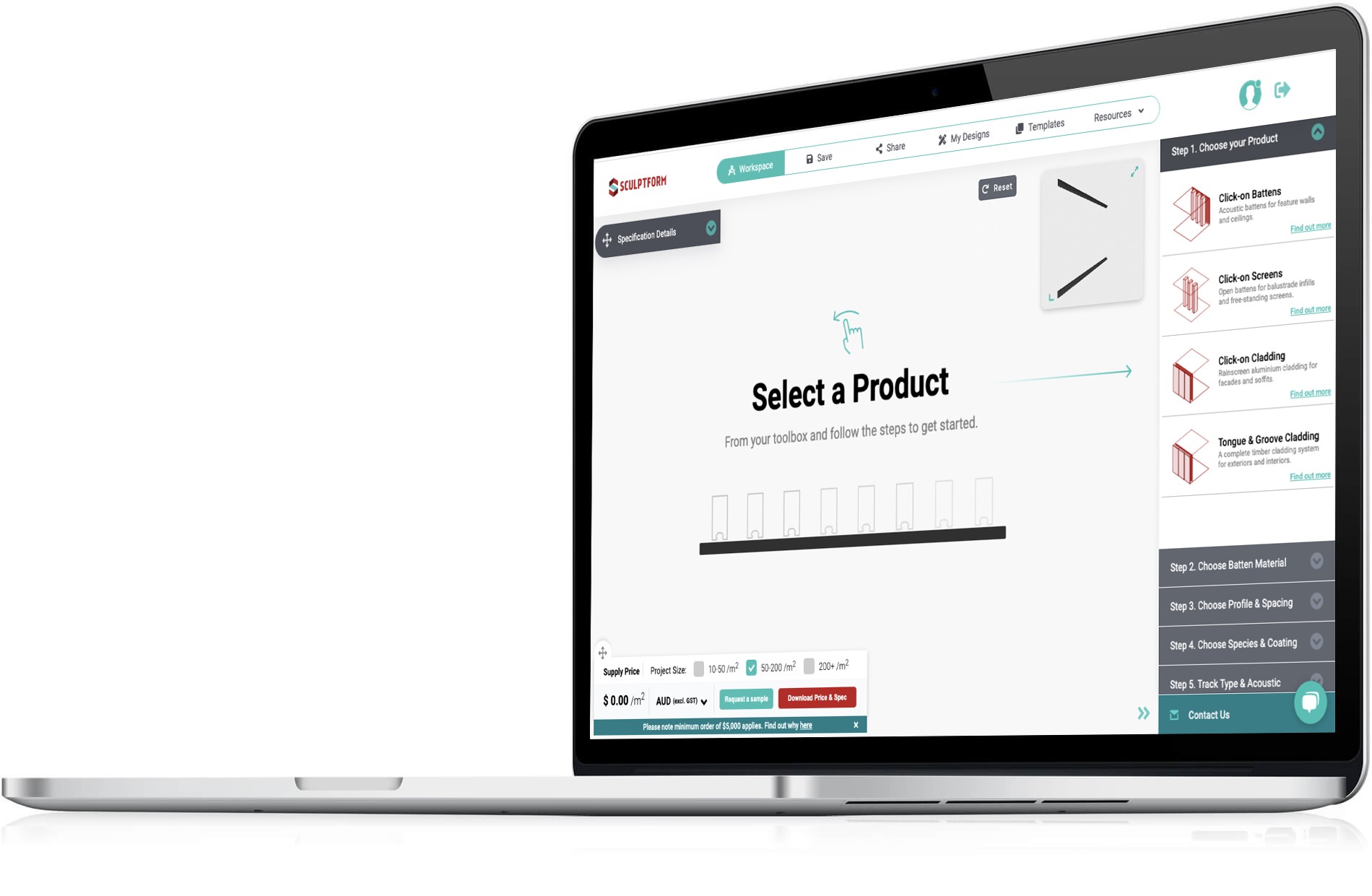 Create your own inspiration
Our Price & Spec tool was created to streamline your design process in an intuitive way. Plus, get real time pricing, specification data and samples for your custom sequence.