Click-on Cladding
Our Click-on cladding combines our unique Click-on connection with traditional tongue & groove cladding methodology to deliver a non-combustible aluminium cladding solution available in a range of quality finishes and profiles.
The System
Unlike traditional cladding, our easy to specify system offers a range of unique profile suites which can be used in any combination to create deep and rich textures. Consisting of lightweight aluminium extrusions and uses modular components that allow designers flexibility to create a truly unique façade, while maintaining its ease of installation.
Deemed non-combustible under AS 1530.1, Click-on Cladding is a fire compliant solution available in a variety of high quality finishes to suit almost any design intent.
The unique Click-on connection replaces traditional screw fixings, reducing time on-site and ensuring an accurate installation without the need for specialist labour.
How it works
Click-on Cladding utilises our proprietary mounting track system which can be fixed to virtually any substrate. Once the tracks are installed, the boards simply click into the factory fitted clips, allowing speed and accuracy in the installation process.
The revolutionary clip connection provides strength, allows for expansion and prevents unsightly deformation and buckling, commonly known as oil canning. Click on the video below to see how quick and easy the system is to install.
The benefits of aluminium Click-on Cladding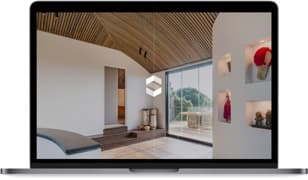 Create your own inspiration
Our Price & Spec tool was created to streamline your design process in an intuitive way.
Get Started
Design Examples
Fine Line 300
Edge 300
Edge Combo Alternating
Fine line & Edge Combo
Edge Combo Fibonacci
Flute 75
Flute 120
Block 25
Flat 75
A wide range of applications
Our system is extremely versatile and can be used in a wide range of applications including rainscreen facades, soffit linings, spandrel cladding, interior to exterior transitions, curved walls and ceilings with horizontal, vertical or angled orientations.