Click-on Battens
Click-on Battens are a concealed fix linear feature battening system for acoustic walls and ceilings. The system is crafted from profiled timber or aluminium battens and mounting tracks with factory fitted clips and acoustic backing.
How it works
Not your typical off the shelf product, our Click-on Batten system is a highly customisable, proprietary acoustic batten system. Famous for the unique patented clip connection, our Click-on Battens make installation fast and easy using either timber or aluminium battens in a range of sizes and profiles.
A specially designed groove in the back of the battens serves as the interface between the batten and clip. These clips are provided pre-fixed to mounting tracks according to your specification, which are quickly installed on-site before the battens are clicked into place.
A wide range of applications
Our system is extremely versatile and can be used in a variety of applications.
View application details
Technical specifications
Find below the technical details for our Click-on Battens, including profiles and species/finishes for either timber,  aluminium or curved timber battens.
Timber Tech Specs.   Aluminium Tech Specs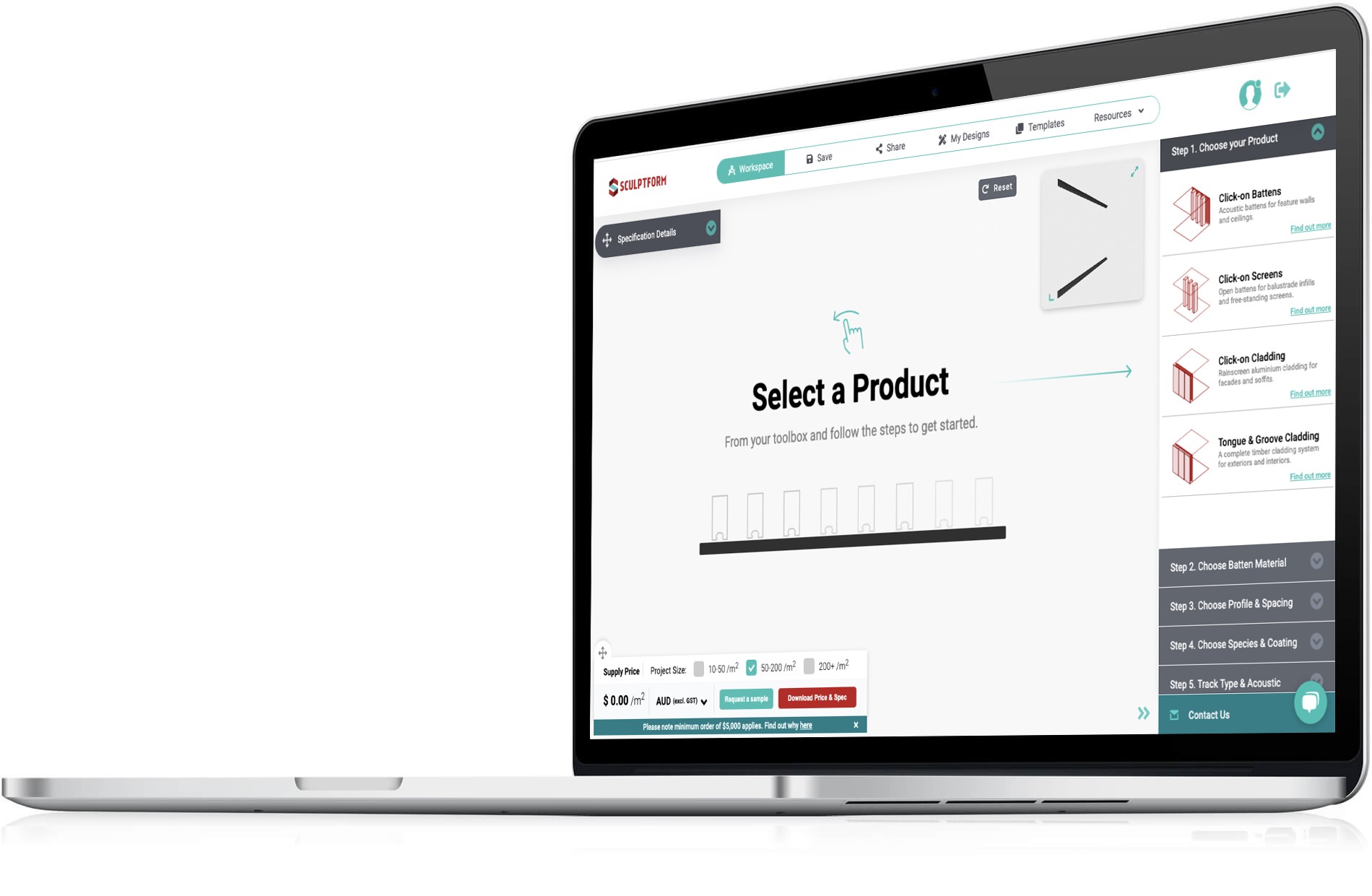 How to Price and Specify
Our Price & Spec application was created to streamline your specification and tendering process by providing real time pricing, specification data and CAD files for your custom sequence.
FAQ's
Can Click-on Battens be used externally?

Yes, the system and components are made from high durability and low corrosion metals. Batten materials and finishes have different durability ratings so it is important to check that the finish specified is externally rated.

What is the acoustic NRC of Click-on Battens?

The NRC (Noise Reduction Coefficient) of Click on Battens depends on the backing used and what is behind the system. If using the 7mm acoustic backing with a 90mm stud cavity behind, the rating will be around NRC 0.4, but if you put some additional 50mm acoustic batts in the cavity it brings the NRC up to about 0.93. You can calculate the acoustic rating of your specification on our Price & Spec tool.

How much do Click-on Battens cost?

As our system is full customisable, costs can be anywhere between $200m² to $600m² depending on the size, profiles, finish, spacing etc. Typically it would be around $350m². Use our online Price & Spec tool to receive a square meter quote instantly for your specification details.

Do Click-on Battens integrate into a suspended ceiling?

We have a specific Mounting Track and connector clip designed to integrate into standard suspended ceiling systems.

Can Click-on Battens be used as a free-standing screen?

Our Click-on Screens product is a better alternative if the battens are to be viewed from both sides. Using the same principal of a click-on system, it gives you the same fast and easy install that our Click-on Battens provide.
Enquiries
Our clients are at the heart of every project and it's our job to deliver on the big picture and the smallest detail.
If you have any questions about our Click-on Batten range, contact us below or request a sample.