Cove House
Located in the idyllic Queensland locale of Sanctuary Cove, sits the impressive residence, Cove House. Created by Justin Humphrey Architects, the home is its own private resort and is a "rich and tactile exploration into thresholds and edges".
Product
Click-on Battens
Materials
Australian Home of the Year in 2020
The striking residence took out the national home building industry's top gong in 2020, thanks to its clever design and exquisite choice of materials and finishes – it's not hard to see what makes this riverfront home so special.
"The client's brief called for a materially-rich and tactile house that celebrated their love of subtropical architecture."
An Interplay Between Inside and Out
The unique open floor plan obscures the lines between indoors and out, creating a home connected to its tropical surroundings and filled with tranquillity. Cove House remains true to the brief for a materially-rich space inspired by sub-tropical architecture.
The homes' intricate layering of natural tactile materials elicits a feeling of class, embracing all who dwell inside! This design also takes advantage of the northern water aspect right outside with perfectly planned incisions in the structure allowing natural light to flood inside while enjoying the framed view of the waterfront.
Adding to the interconnectivity are timber batten screens which provide privacy by enveloping rooms.
Product Specification - Interior Wall
| | |
| --- | --- |
| Product | Click-on Battens |
| Material | Timber |
| Species | Blackbutt |
| Profile | Flute - 42 x 19mm |
| Spacing | 20mm |
| Mounting Track | Standard |
Impressive Facade
Concrete, steel and timber are the main palette of materials used to paint a striking facade unlike any other. Timber battens made from the ever-popular species, Blackbutt, in a flute profile, line the front and sides of the home while dark steel frames windows and the roof with it all anchored together by light grey concrete walls slabs.
The subtle concave profile of the timber battens, the gentle sweep of a concrete wall combined with the contrast of the dark coloured steel together soften and add elegance to the project.
Project Summary
Architect
Justin Humphrey Architecture
Builder
BJ Miller Constructions
Location
Sanctuary Cove, QLD
Photographer
Andy MacPherson Studio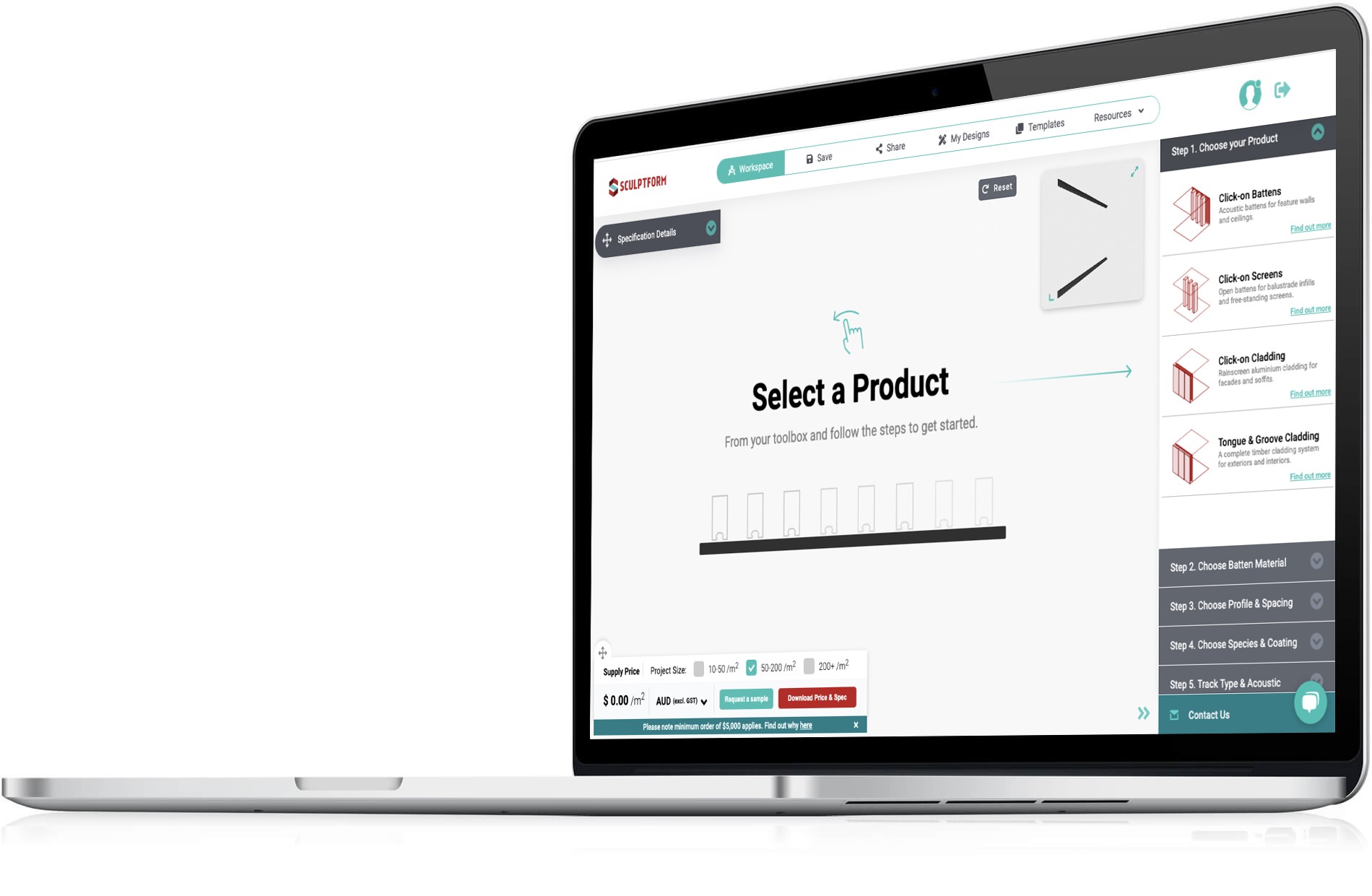 Create your own inspiration
Our Price & Spec tool was created to streamline your design process in an intuitive way. Plus, get real time pricing, specification data and samples for your custom sequence.