Meredith Connell – MC Centre
Meredith Connell (MC) is New Zealand's largest litigation firm, with around 160 litigators and 90 support staff. Their new MC Centre is renowned as the best training ground for the Crown Solicitors, QCs, judges and corporate litigators of the future.
For lead architects, MC chose Jasmax, one of Aotearoa New Zealand's leading multi-disciplinary design practices. Click-on Battens were fortunate enough to make a feature on the walls and ceilings of the stunning terrariums within their office space…take a look!
Product
Click-on Battens
Materials
The most incredible workplace
Despite only moving into their previous Auckland office in 2016, strong growth meant MC was outgrowing its space. By 2019, they had to choose whether to cap numbers, lease additional office space or move to a new site. The partners opted to move to a new site to contain continued growth and aim to have a team of 300 by the beginning of 2023.
MC's brief to Jasmax was to celebrate contemporary Aotearoa and to ensure their office would be indistinguishable from any other major New Zealand law firm. It also had to support a growing team of 300+ and appeal to the best younger talent aged in their 20's and 30's. 
Product Specifications: Terrarium Walls
| | |
| --- | --- |
| Product | Click-on Battens |
| Material | Timber |
| Species | Blackbutt (PEFC) |
| Profile | Dome, 32x32mm |
| Finish | Clear Oil |
| Spacing | 48mm |
| Track | Standard mounting track, 45x25mm |
Product Specifications: Terrarium Ceilings
| | |
| --- | --- |
| Product | Click-on Battens |
| Material | Timber |
| Species | Blackbutt (PEFC) |
| Profile | Dome, 32x32mm |
| Finish | Clear Oil |
| Spacing | 128mm |
| Track | Suspended ceiling track, 45x32mm |
Sustainability at the forefront
The MC Centre has a six-star rating under the New Zealand Green Building Council's Green Star programme. They took a bolder and more holistic approach to wellbeing by seeking to become New Zealand's first professional services firm to achieve WELL v2 Certification from the International WELL Building Institute.
A vast range of evidence and some improvements were required to meet WELL standards measuring 108 different features covering ten concepts: air, water, nourishment, light, movement, thermal comfort, sound, materials, mind and community. Click-on Timber Battens were applied, crafted from PEFC certified Blackbutt timber, to meet the sustainability requirements.
Project Summary
Builder
Impact Interiors and Construction
Location
Auckland, New Zealand
Photographer
Devin Tootill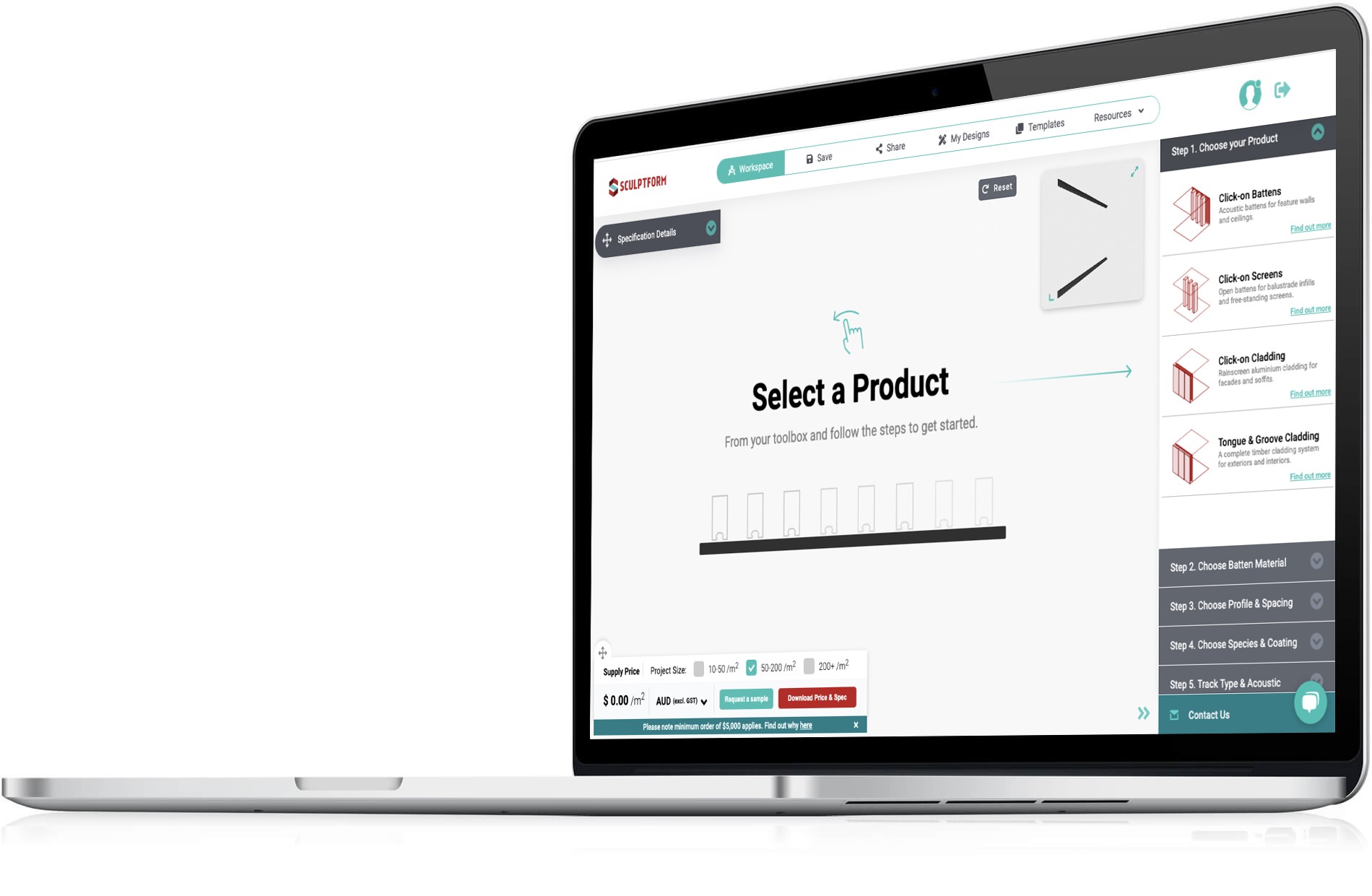 Create your own inspiration
Our Price & Spec tool was created to streamline your design process in an intuitive way. Plus, get real time pricing, specification data and samples for your custom sequence.