Discover every nook of our Design Studio
Our Sculptform Design Studio, located in the heart of Melbourne at 50 Queen St, is honestly a sight to behold! From the second you catch a glimpse inside and set foot through the front door you will be overwhelmed by the sheer amount of stunning curved timber and the ambience our studio creates.
It is the perfect destination for events, workplace functions and meetings, training and a range of other uses; the options are endless. Created by Woods Bagot, the design has won awards and gained recognition across the world. Below, we have profiled each space within the studio to provide you with a detailed introduction.
If you'd like to see the space in person, we encourage you to book in here or scroll to the bottom of this page.
Product
Click-on Battens
Materials
Boardroom + Meeting Room
A sophisticated meeting room featuring leather seating, premium timber finishes, and convenient video conferencing and whiteboard facilities. The space comfortably sits 10 and can be reconfigured to accommodate larger groups if needed.
Our meeting room is the same as the boardroom with all the same inclusions but a tad smaller in size. 
Co-lab
The Co-lab workshop, a centrepiece of the Sculptform Design Studio, is a tactile environment where you can interact with our whole product range. Everything from profiles, timber species, finishes, coatings, spacing and track types for each of our products can be explored.
The idea for the Co-lab is to allow our clients to see our products up close and experiment with their designs. There really is nothing like holding the real thing in your hands and seeing the quality up close!
Once you have explored our product library and chosen the material, whether it be timber or aluminium, and the spacing, finish/coating, profile and track-type; you'll see your own sample come to life. You're able to be part of the sample-making process as well; you can 'Click-on' the product and put the coating on your sample.
Visit us in person
Our Melbourne team would love to welcome you into our Sculptform Design Studio! We welcome you to book in a tour with us of the space, a project meeting in the Co-lab or if any area of the studio looks like a great place for your next function/meeting, you can book in below.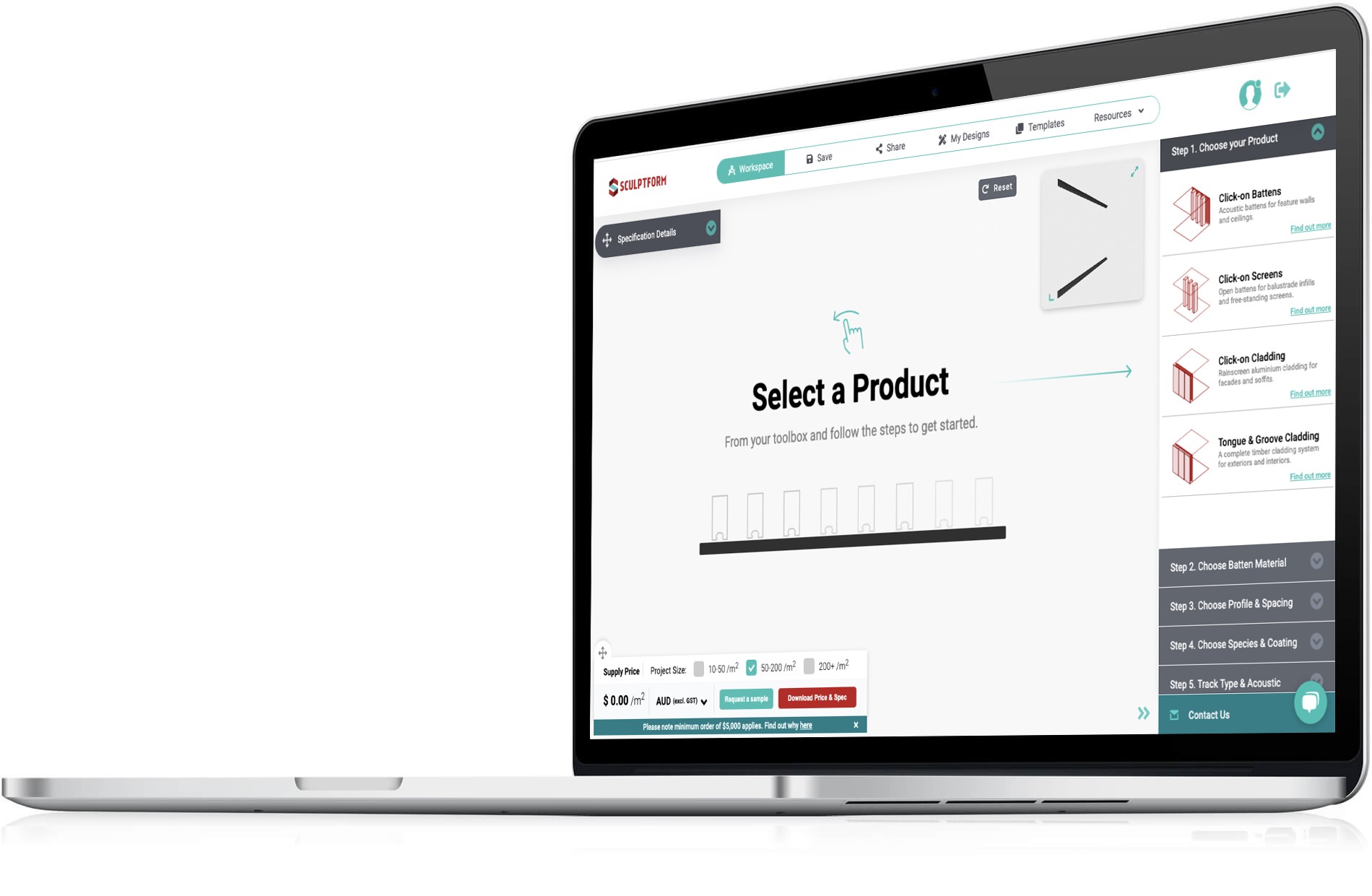 Create your own inspiration
Our Price & Spec tool was created to streamline your design process in an intuitive way. Plus, get real time pricing, specification data and samples for your custom sequence.