Hunter House Cafe
Opened in late 2020, Hunter House Cafe creates a 'breath of fresh air in the big smoke' of central Sydney.
The spectacular parametric ceiling design uses a Sculptform custom solution manufactured in conjunction with Porta Mouldings to deliver on the ambitious concept from Fender Katsilidis Architects, using hanging dowels to create a dynamic feature that creates unique texture in Vic Ash timber.
Product
Materials
A Parametric Feature
Parametric designs are becoming more popular within the architectural community due to their ability to combine aesthetics and efficiencies. 
These designs are created by entering the practical constraints of a concept into specialised software, which makes a design that meets both the design intent and buildability 'parametres'. 
The design from Fender Katsilidis incorporated a spectacular parametric ceiling design using hanging timber dowels. The pattern of the dowels creates a unique wave shape which was pre-modelled by the architectural team to allow for accurate production. 
Systemising a bespoke feature
A key strength of ours at Sculptform is simplifying the complex, which was critical to this project. Our process of simplification involves finding the repeatable elements in a design and developing modules that are efficient to manufacture and install. 
For the ceiling at Hunter House, the hanging dowels and connections were the repeatable elements and needed a systemised approach to manufacture and installation. 
We developed a grid system which was fixed to the ceiling and used number and letter designations for each position. Dowels of the required length were labelled before being delivered to site, then methodically installed by the team on-site. 
This systemisation process involved doing as much work as possible in our factory rather than on-site. This thinking even extended to our packaging, where we spent extra effort labelling and packing the dowels in order to maximise efficiencies on-site. 
A collaborative project
The complexities of the manufacturing process for this project meant that several stakeholders needed to be involved in providing the right outcome.
While Sculptform was the key supplier of the ceiling solution, we worked closely with a range of other manufacturers to supply materials to site ready to install.
Porta Mouldings worked closely with our pre-construction team and incorporated factors like individually labelling the dowels into their machining process, saving time across the whole project. Porta have been manufacturing and distributing timber products for over 70 years, and the expertise built over this period was invaluable to the completion of this project.
To fit the connections into the dowels, we worked with local joiner Lacey Joinery, who inserted the lag screw connection into the dowels which served as the connection to the grid system above.
This approach to the project allowed Sculptform to act as coordinators of large sections of the manufacturing process, which helped with lead times and organisation on site.
Specification Data
| | |
| --- | --- |
| Product | Sculptform Custom Ceiling Solution |
| Material | Timber |
| Species | Vic Ash |
| Profile | Custom Hanging Dowel |
| Spacing | Custom |
| Coating | Clear Oil |
| Mounting Track | Custom Grid System |
| Acoustic Backing | No |
Project Summary
Architect
Fender Katsalidis
Photographer
Guy Wilkinson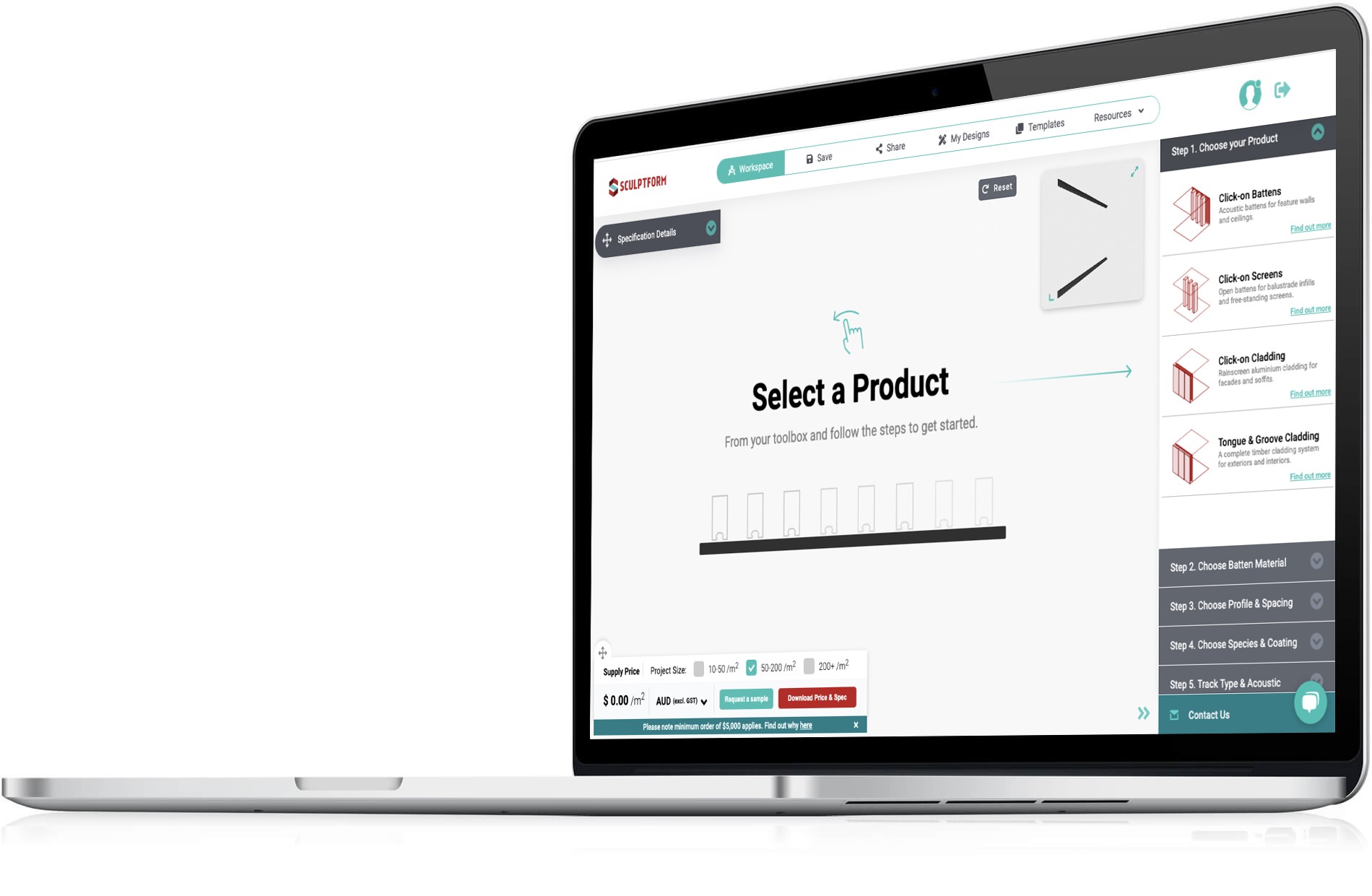 Create your own inspiration
Our Price & Spec tool was created to streamline your design process in an intuitive way. Plus, get real time pricing, specification data and samples for your custom sequence.