Lake Macquarie City Council Office
The fresh new fit-out of the Lake Macquarie City Council office designed by EJE Architects delivers a stunning workplace filled with colour-themed spaces.
Timber screens crafted from Click-on Screens and walls with Click-on Battens are strewn throughout, providing privacy, perfectly segmented office spaces and the valuable biophilic benefits of timber.
Product
Click-on Battens
Materials
Blackbutt
Wood Finish Aluminium
Welcoming Colour Scheme
The council's office features new kitchens, meeting rooms, breakout areas, bathrooms, end of trip facilities and executive offices, all beautifully designed to ensure occupants feel at ease and supported while at work. 
A colour scheme of blue, green, whites, black, grey and warm peach and burgundy tones mix well with the large quantity of timber wall battens and screens. 
The Impact of Screens
Screens are dotted throughout the office fit-out. Used to separate open spaces into small areas for co-working, meetings and lounging. Two types of screens are used within the office, one made out of timber installed in the office and the other constructed from aluminium to meet fire restrictions installed along the staircases.
In open areas screens provide privacy, filtered light and section space into smaller areas for specific purposes. Many people prefer to work in offices with high visibility and a feeling of openness rather than confined spaces. Screens are great at achieving this within a design and provide a good balance between the two.
Product Specifications: Aluminium Screen
| | |
| --- | --- |
| Product | Free Standing Screen |
| Material | Aluminium |
| Finish | Wood Finish Wrap - Blackbutt |
| Profile | 50x100mm |
| Spacing | 100mm |
| Track | Standard Mounting Track |
Fluting Walls
A big aspect of the design is our timber Click-on Battens in a flute profile. These weave a detailed tapestry throughout the interior. They provide warmth with natural tones and texture, drawing your eyes toward them. Crafted from the highly durable timber species Blackbutt, they can withstand the knocks and bumps that come with high traffic areas and get better over time. 
Product Specifications: Timber Walls
| | |
| --- | --- |
| Product | Click-on Battens |
| Material | Timber |
| Species | Blackbutt |
| Profile | Flute, 60x32mm |
| Spacing | 20mm |
| Track | Standard Mounting Track |
| Acoustic Backing | Yes |
Project Summary
Architect
EJE Architecture
Installer
Burgtec Furniture and Joinery
Photographer
Alex Macintyre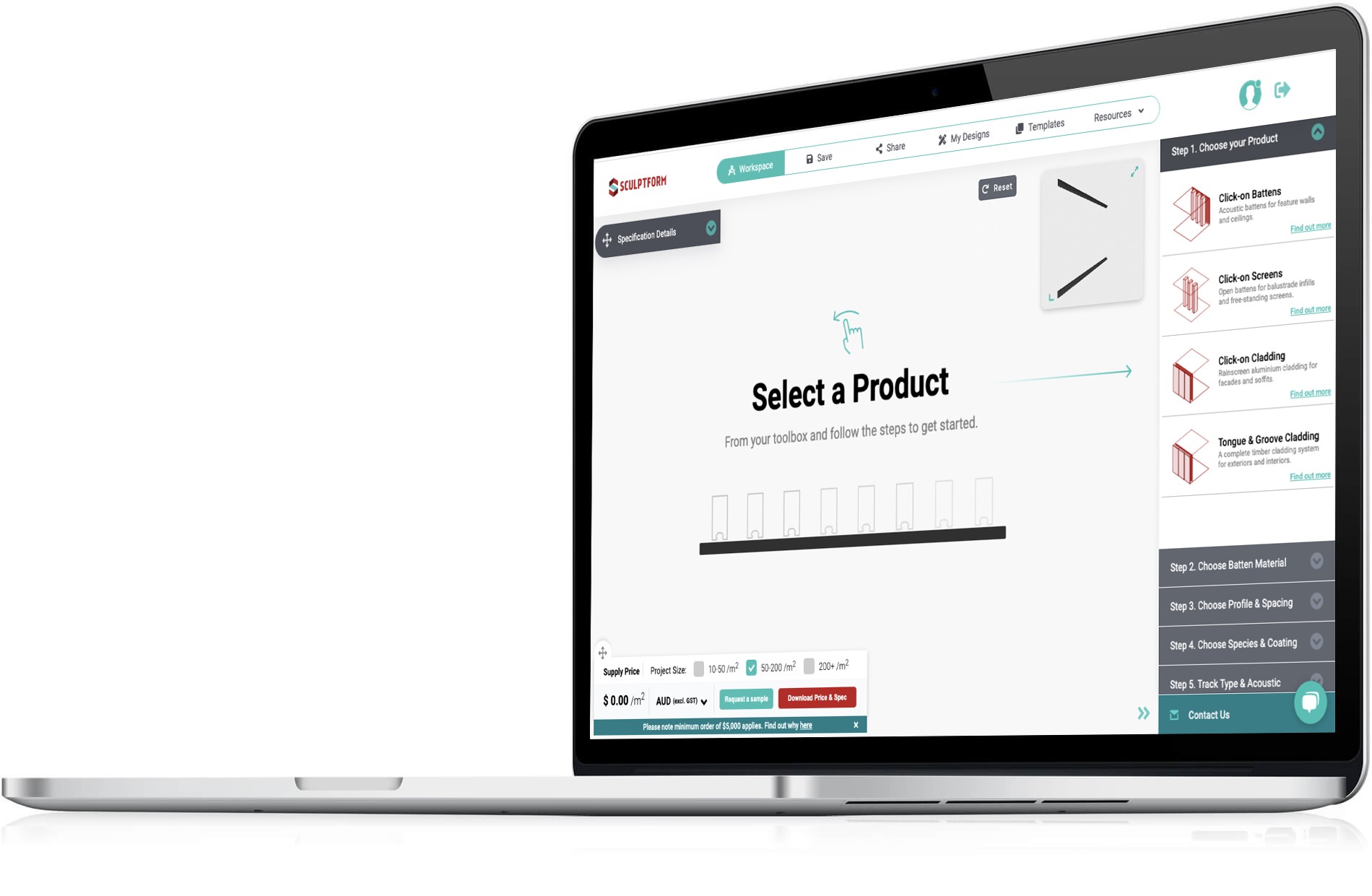 Create your own inspiration
Our Price & Spec tool was created to streamline your design process in an intuitive way. Plus, get real time pricing, specification data and samples for your custom sequence.