The Workshop
Workshop by Milligan Group is a visionary campus-style business hub in Sydney's Pyrmont, showcasing a new era of workplace design. Designed by Bates Smart, the signature building incorporates our Vic Ash timber Click-On Battens and Tongue & Groove Cladding  throughout the multilevel ceilings.
A full-height atrium in the centre of the Workshop creates an open, light-filled environment and visual connectivity between floors – if you can see past the impressive hanging planters. Interconnecting stairs and column-free workspaces encourage culture and collaboration and open up easy communication between its inhabitants.
Product
Click-on Battens
Materials
"Workshop draws on the historical context of Pyrmont's masonry warehouses and combines this with a contemporary high-quality workplace that looks and feels different to typical office buildings."
Specification Details - Battens
| | |
| --- | --- |
| Product | Sculptform Click-On Battens |
| Material | Timber |
| Species | Vic Ash |
| Profile | 32x60mm Block |
| Spacing | 40mm |
| Coating | Clear Oil |
A Sustainable Choice
The Workshop contains 19,000 square meters of office space, seven boutique offices and substantial onsite amenities including retail outlets, childcare, gym (with bike storage and infrared sauna), café and restaurant. 
The design managed to achieve the highest level Green Star Rating (6 Stars), through its careful choice of building materials. The Green Building Council of Australia states that a 6 Star rated building showcases World Leadership and is a highly efficient building fully powered by renewables and addresses a number of environmental and social issues while also contributing to a sense of community.
Biophilic design is also incorporated, with gleaming planter halos suspended at differing levels throughout the void; bringing a sensory element to the interior and emphasising the benefits of indoor/outdoor connections in the design.
Design to Benefit Inhabitants
An abundance of natural light, breakout zones, flexible floorplates, foliage and natural ventilation are all deliberately included in the design to support staff to be happier, healthier and more productive. The incorporation of timber balances well with other materials such as metal, terracotta, glass and concrete and provides a sense of tranquility.
Timber also has many physiological and psychological benefits which mimic the effects of spending time in nature, making it a smart choice for inclusion in workplaces. The hanging planters overflowing with foliage throughout the building are is a fabulous demonstration of a biophilic design concept. The key to incorporating biophilic design principles into a project is to integrate nature seamlessly into the structure. In areas such as workplace design, integrating plants and using natural materials like timber can have a drastic impact on the productivity of workers.
Specification Details - Cladding
| | |
| --- | --- |
| Product | Sculptform Tongue & Groove Cladding |
| Material | Timber |
| Species | Vic Ash |
| Profile | 138x19mm Sorrento |
| Coating | Clear Poly |
Project Summary
Photographer
Guy Wilkinson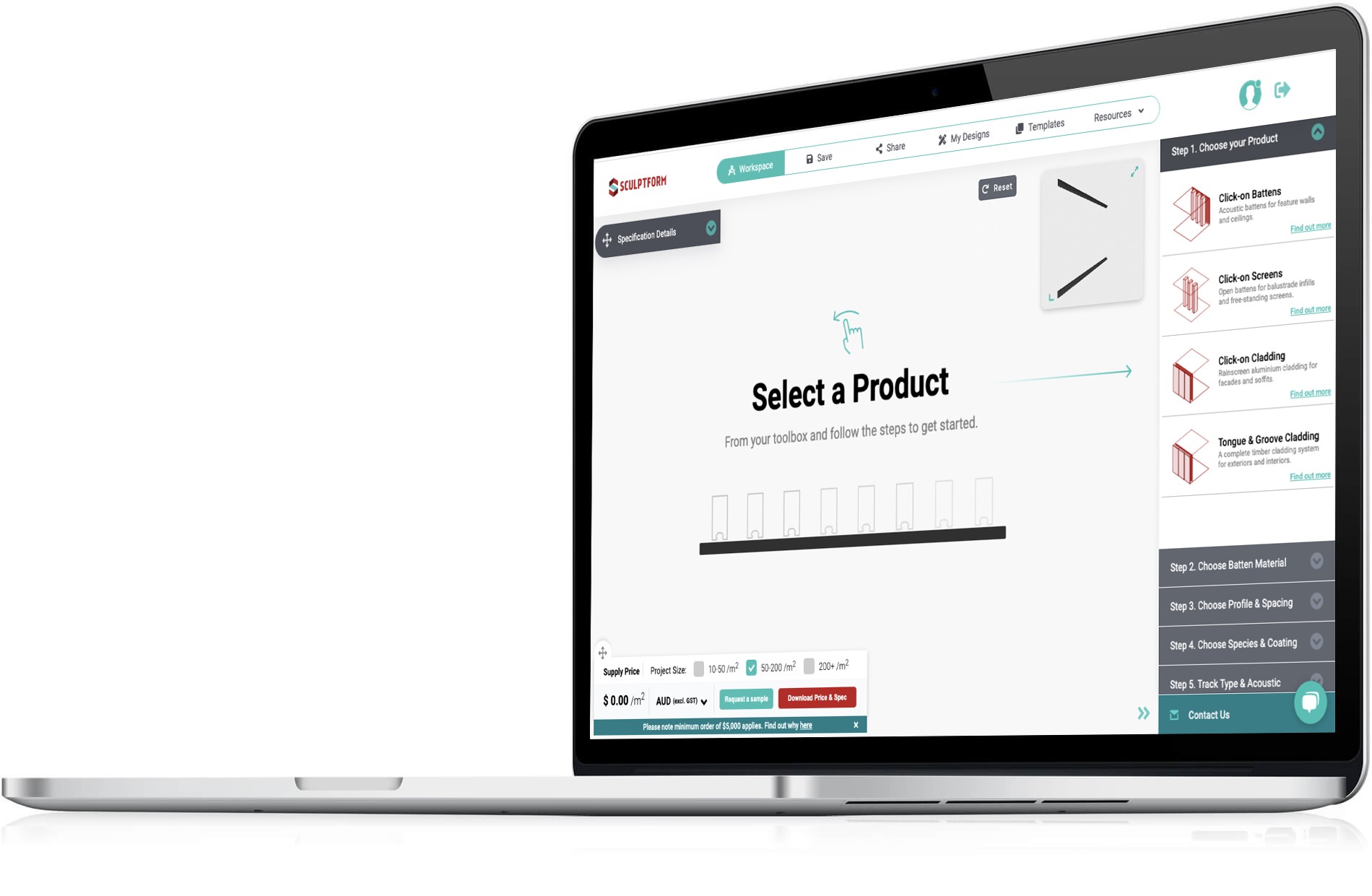 Create your own inspiration
Our Price & Spec tool was created to streamline your design process in an intuitive way. Plus, get real time pricing, specification data and samples for your custom sequence.