Wallan Veterinary Hospital
Incorporating the unique requirements of a location is often an issue for architects, however, the team at Crosshatch accepted all challenges and delivered a quality outcome in Wallan Veterinary Hospital.
The first, and most obvious challenge when designing for this project was the location itself. With the lot situated in a residential area, Crosshatch were careful not to disrupt the suburban surrounds. The minimalist footprint and simple shape of the building itself also keep the structure from obtruding in its environment. The sloping of the block was another hurdle to overcome, so the architects raised the building on a recessive masonry base which also solved any issues related to flooding.
Product
Click-on Battens
Materials
Our Click-on Batten system was used in this project to create the amazing batten screening feature which spans three sides of the structure. Integrated doors are incorporated seamlessly into the design, providing access without disrupting the overall look. Using 32x32mm Spotted Gum battens, the screening gives the entire building an understated yet intriguing aesthetic.
"The hospital is located within a residential zone and we were determined to be as respectful as possible with the neighbouring buildings. After our site analysis, we decided that a timber façade would go a long way in softening the building's presence."
"One of the most important aspects of the facade is the effect the battens create as you approach the building and walk around it. The form changes from being an apparently solid timber box to being nearly transparent. As you move around the building this level of transparency changes and seems to interact with you."
Specification Information
| | |
| --- | --- |
| Product | Sculptform Click-on Battens |
| Species | Spotted Gum |
| Profile | 42x42mm Block |
| Spacing | 32mm |
| Coating | Clear Oil |
| Mounting Track | Standard |
| Acoustic Backing | No |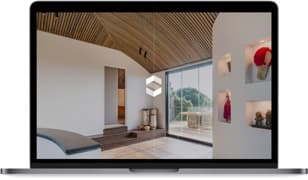 Create your own inspiration
Our Price & Spec tool was created to streamline your design process in an intuitive way.
Get Started
Project Summary
Builder
Lang Constructions
Photographer
Jaime Diaz-Berrio
Create your own inspiration
Our Price & Spec tool was created to streamline your design process in an intuitive way. Plus, get real time pricing, specification data and samples for your custom sequence.