Methodist Ladies College
A hub of enthusiasm designed by McIldowie Partners to allow flexibility in the learning environment, the new Nicholas Learning Centre at Methodist Ladies College uses Sculptform Click-on Battens to complete its energetic yet refined appeal.
Product
Click-on Battens
Materials
Timber Veneered Aluminium
View in price & spec
Real timber veneer
Our real timber veneer uses actual timber cut into thin >1mm slices and wrapped around an aluminium batten. The wrapping process takes place entirely in our Australian factory, where we are continually incorporating the latest in wrapping technology available.
While our timber-look options can match the timber aesthetic, the variation of real timber is extremely hard to replicate. Our real timber veneer can provide this level of variation, giving the authentic look and warmth of timber.
A fire compliant solution
By choosing to use the real timber veneer, McIldowie Partners was able to provide a genuine timber aesthetic while still meeting all fire compliance requirements. All Sculptform aluminium Click-on Battens achieve a Group 1 fire rating, which is essential for projects like this in the education sector.
Find out more about how our aluminium battens can help you achieve design intent while remaining compliant in our Click-on Battens technical information section.
Specification Details
| | |
| --- | --- |
| Product | Sculptform Click-on Battens |
| Material | Aluminium |
| Finish | Real Timber Veneer - White Oak |
| Profile | 25x50mm |
| Spacing | 25mm |
| Mounting Track | Standard |
| Acoustic Backing | Yes |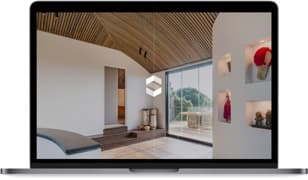 Create your own inspiration
Our Price & Spec tool was created to streamline your design process in an intuitive way.
Get Started
A custom acoustic solution
At Sculptform, we love a challenge. When asked if we could provide an acoustic solution for several collaboration spaces across the Nicholas Learning Centre, we had just the answer in mind. To provide a solution which met both the acoustic and aesthetic requirements of the space, we suggested incorporating an Acoustic Blade system.
The system fixes blades made of 100% recyclable PET panel vertically to the ceiling, which absorb sound and help control the noise levels in common areas which are usually full of activity. White blades were chosen in this instance to contrast the spectacular hexagonal patterns on the carpet, completing the overall look of the halls and common areas.
The small details make a big difference
A combination of great design and attention to detail by the installers, the Nicholas Learning Centre is one of our favourite examples of how small detailing can have a massive effect on the overall finished product.
Everything from angled batten ends following the shape of the bulkhead to the incredible detail of the battens around the stairs all contribute to the refined aesthetic of the project. A 25x25mm aluminium L-profile powder coated in black is also used to finish off the edge of the feature walls with style, contrasting with the warmth of the timber battens.
Project Summary
Architect
McIldowie Partners
Builder
McCorkell Brown Group
Photographer
Steve Scallone
Create your own inspiration
Our Price & Spec tool was created to streamline your design process in an intuitive way. Plus, get real time pricing, specification data and CAD files for your custom sequence.