Our Wood Finish Aluminium range is a desirable combination, pairing structural benefits of aluminium with the beauty of wood.
Why use Wood Finish Aluminium?
Our Wood Finish Aluminium battens provide value to specifiers, installers and clients alike. Cost-effective, fast to install and providing a range of colour options, our wood finish range can meet any budget and design intent.
Deemed non-combustible under AS1530.1, our battens meet the fire compliance requirements for most external applications. 
There are many additional advantages to using Wood Finish Aluminium battens which can be read about in more detail here.
Available Colours
Quality Timber Finish
The world-class polyolefin film is manufactured in Japan, using an electron beam coating technology. The coating makes the film highly durable and resistant to scratching and abrasion. The film is bonded to the aluminium boards using European wrapping technology.
The German-made reactive hotmelt PUR adhesive gives it superior resistance to moisture and temperature. This interlaminar bond is continually subjected to strict testing rigour.
Colour Fade Test Results
The film also has excellent resistance to fade. In the table below we compare the fade of Sculptform timber finish to a sublimation powder coat alternative. The samples were tested under accelerated weathering conditions to compare fade over time.
All this is backed by Sculptform's 10 Year Warranty.
Contact us to discuss how our Wood Finish Aluminium will perform in a specific application.
Large Blade Sizes
Available in depths up to 150mm, our Click-on Batten system offers large timber look blades for your project. The aluminium profiles offer a lightweight alternative to solid timber battens. See our entire range of aluminium sizes here. 
For large scale facade applications requiring deeper blades, our Facade Blades system offers depths of up to 300mm.
Frequently Asked Questions
Will the wood finish fade when used externally?

Our extensive weather testing indicates that our Wood Finish Aluminium is highly resistant to fading, performing much better than similar wood look aluminium competitors.

Is our Wood Finish Aluminium fire rated?

Our range of aluminium battens is deemed Non-combustible under AS 15030.3, making them suitable for any external application.

How often does the wood pattern repeat?

We divide our wood finish wrapping into multiple strips and place them onto our products so that patterns don't align which helps to avoid any noticeable repetitions.

How thick is the wood finish wrap around the batten?

Our wraps are 0.15mm thick.

What warranty is available?

Sculptform provides a 10-year warranty on our wrapped aluminium products, contact us on 1800 008 828 for more details.
Have any questions?
Our clients are at the heart of every project. It's our job to deliver on the big picture and the smallest detail. We're your proactive design partner – we'll listen to what you really need and work with you to make sure the job gets done right.
We would love to hear about your next project!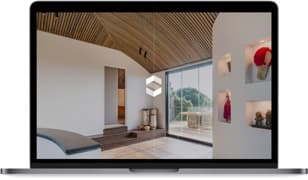 Create your own inspiration
Our Price & Spec tool was created to streamline your design process in an intuitive way.
Get Started